News & Features
The Urban League of Greater Cleveland Celebrates 100 Years! The ULGC is a community based nonprofit organization incorporated on Dec. 17, 1917 to help meet the needs of African American workers coming to Cleveland during the Great Migration after World War I. Today, the ULGC continues to "open doors of access" for African Americans and other minority members of the community. (Posted 11/17/17).

50 Years Ago November 30th... Dr. René G.Favaloro performed the first planned and reported coronary bypass operation on a patient at the Cleveland Clinic. This was one of many innovations in cardiac care pioneered by the Clinic and other medical facilities in Cleveland in the 1950s and 60s. Read more about Cleveland's history as a pioneer in cardiac care. (Posted 11/15/17).

Happy 100, Richmond Heights! Congratulations to Richmond Heights, which celebrates its centennial on November 17th. Incorporated as the Village of Claribel on that date in 1917, it was renamed Richmond Heights in 1918. It is one of three neighboring eastern suburbs (Lyndhurst, South Euclid) that turned 100 this year. See photos of Richmond Heights in Cleveland Memory. (Posted 11/01/17).

Trick or Treat! Instead of candy, be sure to treat yourself to some recently added photos of young (and not so young) Clevelanders decked out in their Halloween finest (spookiest?), as well as some older favorite photos of Halloween celebrations past from the Cleveland Hts. - University Hts. Libraries. (Posted 10/26/17).

In the News: John Adams High School recently held its 2017 "Grand Reunion" for classmates who graduated 50 or more years ago. The 855 attendees were treated to a display of photos of the historic school supplied from the Cleveland Memory archives. This year's reunion had the largest attendance in the 15 years in which the event has been held. See photos of John Adams High dating as far back as 1938. (Posted 10/05/17).

40 Years Ago on October 6th... Danny Greene (aka the Irishman), a major figure in Cleveland racketeering, met his demise when a bomb hidden in a car parked next to him exploded in a parking lot at the Brainard Place office building in Lyndhurst, Ohio. Greene had just finished up with a dental appointment to correct a loose filling. Read more about the bombing in Crime Scene Cleveland. (Posted 10/01/17).

In the News: Betty Klaric (1931- 2011), pioneering environmental reporter for the Cleveland Press, was recently inducted into the Cleveland-Marshall College of Law Hall of Fame as a "Commemorated Honoree." In 1965, she helped the Press start a "Save Lake Erie Now" campaign and brought national attention to the 1969 Cuyahoga River fire, which led to changes in environmental laws on the federal level. Read more about Betty Klaric. (Posted 09/15/17).

Sept. 26th is Johnny Appleseed Day! John Chapman (Sept. 26, 1774 - March 18, 1845), known as Johnny Appleseed, was an American pioneer and missionary who travelled throughout Pennsylvania, Ohio, Indiana, and Illinois in the 1790s and early 1800s planting nurseries. His legacy is celebrated in Ohio with a monument in Mansfield and festivals in Brunswick and Lisbon. (Posted 09/14/17).

New! The Madison Public Library Collection: This new addition to our collections, created in partnership with the Madison Public Library, includes photos, high school yearbooks, newspaper clippings, and other materials relating to the history of the Madison Public Library, the Madison community, and the broader Arcola Creek region. (Posted 09/06/17).

Lyndhurst Celebrates Centennial: Congratulations to Lyndhurst, which celebrated its 100th birthday during its "Home Days" on Sept. 8 -10. On Aug. 7, 1917, sixty-three registered voters approved the incorporation of the Village of Euclidville, which would later be renamed "Lyndhurst" as the result of a naming contest in 1920. See photos of Lyndhurst in Cleveland Memory. (Posted 09/06/17).

The 1913 State-Wide Flood: A "perfect storm" of low-pressure systems that flowed and then stalled over Ohio for 3 days beginning on Easter Sunday, March 23, 1913 resulted in one of Ohio's worst natural disasters. Though Cleveland missed the worst of it (Dayton was hit hardest), the Flats faced flooding when the Cuyahoga River overflowed causing just over $1 million in damage. See CMP photos of the flood or read the PD article. (Posted 09/01/17).

The Cleveland Air Show: While the U.S. Air Force Thunderbird jets roar over Burke Lakefront Airport this Labor Day weekend, take the time to revisit photos of the Cleveland Air Show's predecessor, the National Air Races which were held in Cleveland from 1929 - 1949. See photos of famous aviators such as Amelia Earhart, Jimmy Doolittle, and Cleveland aviator Blanche Noyes. (Posted 08/31/17).

New eBook! Housing Dynamics in Northeast Ohio: Setting the Stage for Resurgence by Thomas Bier presents an overview of regional housing dynamics and consequent impacts in Northeast Ohio since the 1940s. Focus is on the city of Cleveland and Cuyahoga County. (Posted 08/29/17).

Solar Eclipse 2017: On August 21st, a solar eclipse will cross the entire contiguous U.S., though Clevelanders will only be able to enjoy a partial view of it. The last to follow such a path was 99 years ago on June 8th during the Great War and, as stated in a Plain Dealer article from that year, it was hoped to fortell the end of the war. Oddly enough, WWI did end nearly 5 months later, less than 5 years earlier than predicted in the article. (Posted 08/01/17).

Remembering Judge Jean Murrell Capers (1913-2017): Retired Cleveland Municipal Court Judge Jean Murrell Capers passed away today at the age of 104. The first African-American woman elected to Cleveland City Council (1949), she was a trailblazer and an advocate for the poor who used her knowledge of the law to guarantee legal rights to people of all backgrounds. See photos of Judge Capers in Cleveland Memory. (Posted 07/18/17).

In the News: Record Rendezvous was founded in 1938 by Leo Mintz, who, along with Alan Freed, was instrumental in the development of rock 'n' roll. Originally located at 214 Prospect Ave. and in 1945 at 300 Prospect Ave., the legendary record store, now empty, is considered by John Petkovik in a recent Plain Dealer story to be the "cradle of rock 'n' roll." See photos of Record Rendezvous in Cleveland Memory. (Posted 07/11/17).

70 Years Ago on July 5th... Larry Doby became the first African American in the American League when he debuted as a pinch-hitter for the Cleveland Indians in a game against the White Sox at Comiskey Park. Though he struck out and the Indians lost that game 6-5, Doby himself went on to have a stellar career with the team. Read more about Doby or see photos of Doby in Cleveland Memory. (Posted 07/05/17).

Happy 100, South Euclid! Congratulations to South Euclid, which celebrated its centennial on June 24th and 25th. Originally part of Euclid Township, South Euclid was officially incorporated as a village on October 13, 1917 and later as a city in June 1941. Find out more about South Euclid by visiting our web exhibit, South Euclid: City of Beauty and Contrast. (Posted 06/15/17).

120 Years Ago on June 7th... George Szell, world renowned conductor and music director of the Cleveland Orchestra, was born in Budapest, Hungary. Szell took up the baton with the Cleveland Orchestra in 1946, a position he continued until his death on July 30, 1970 at the age of 73. It was under Szell's leadership that the orchestra achieved international prominence. See photos of George Szell in Cleveland Memory. (Posted 06/08/17).

Remembering Former Cleveland Indian Jim Piersall (1929-2017): Former major league baseball player Jim "Jimmy" Piersall, who played for the Cleveland Indians from 1959 to 1961, died on Saturday, June 3 after a lengthy illness. Although a decent player, Piersall was best known for his unpredictable and often outlandish behavior. Read more about Piersall. (Posted 06/05/17).

New! The Euclid Fish Company: Browse photographs, donated by family members, of the Euclid Fish Company showcasing the company's development throughout the years, beginning from company founder John Comella's early experiences as a food vendor, to scenes of the company's famous clambakes. (Posted 04/27/17).

It's Maple Sugar Festival Time! Geauga County's 88th Annual Maple Sugar Festival runs April 27 - 30 on Chardon's town square. Founded in 1926, the festival was conceived by local merchant Art Carlson to market Ohio's syrup in competition with Vermont's. Read more about the maple sugar industry in northeast Ohio. (Posted 04/27/17).

Earth Day is April 22nd! Earth Day, first celebrated in 1970, is an annual, worldwide event that celebrates the planet's environment and raises public awareness of environmental issues. The first Earth Day in Cleveland had one of the largest turnouts in the nation. Read more about Earth Day and environmentalism in Cleveland or see Earth Day photos in CMP. (Posted 04/19/17).

New! The Browning Engineering Co.: CMP's newest collection includes photos of a variety of the Cleveland-based company's locomotive cranes, showcasing their use during early 20th century building projects, including the construction of the Panama Canal. The collection also features the company's early patents, dating from 1905 and 1908. (Posted 04/07/17).

April is National Poetry Month : Celebrate National Poetry Month by browsing through our d.a. levy Collection. As a poet, artist and publisher, d.a. levy was an important literary and underground figure in Cleveland's emerging poetry and small/alternative press scene in the early 1960s. The collection includes levy's artwork and poetry as well as video and audio of him reading his work. (Posted 04/03/17).

Remembering Bill Boehm : William (Bill) Boehm, founding director of Cleveland's world renown Singing Angels, passed away Saturday, March 18th at the age of 96. Bill Boehm was also a professional singer, director, producer and actor, appearing in many Cain Park productions. Read his obituary from the Plain Dealer. See photos of Bill Boehm in Cleveland Memory. (Posted 03/22/17).

St. Pat's Day Parade Turns 175: Cleveland's St. Patrick's Day Parade is marking its 175th annivesary this year on March 17th. According to the United Irish Societies of Greater Cleveland, the first such parade on record was organized by Rev. Peter McLaughlin in 1842 and consisted of members of the Catholic Temperance Society. Last year's parade drew an estimated crowd of 500,000. See CMP photos of past parades. (Posted 03/15/17).

March is National Women's History Month: Browse through photos of some of the women pilots who made history at the Cleveland Air Races. These pioneers of the sky include Amelia Earhart, Ruth Chatterton, Louise Thaden, Ruth Nichols, Jacqueline Cochran, Phoebe Omlie, and Blanche Noyes, a native Clevelander and the first woman pilot in the Cleveland area. Watch a short video from the 1929 Air Races. (Posted 03/01/17).

Celebrate National Engineers Week Feb. 19-25! EWeek is dedicated in part to raising public awareness of engineers' positive contributions to the quality of life. See how engineers of the past shaped the landscape and infrastructure of Cleveland today by browsing through CMP's Bridges of Northeast Ohio and the Cleveland Union Terminal Collection. (Posted 02/07/17).

NEW! The Darius Milhaud Society Collection- Search or browse through photographs, programs, books, articles, correspondence, scores, and other materials relevant to French composer Darius Milhaud (one of the most prolific composers of the 20th century) and the Darius Milhaud Society founded by Dr. Katharine Warne. (Posted 02/08/17).

Available for Purchase! - The History of the Veterans Memorial Bridge: 90th Anniversary Edition by William Byer documents the history of the original construction of the bridge and the two major rehabilitations. It contains hundreds of glossy photos that offer a unique opportunity to glimpse into previous eras in Cleveland. Find out how you can own a copy. (Posted 01/24/17).

The Plain Dealer Turns 175! Congratulations to The Cleveland Plain Dealer for celebrating 175 years in print. The P.D. was founded on January 7, 1842 as a weekly newspaper by Joseph William Gray, who described the newspaper as a "lens through which the Western Reserve could see themselves and the rest of the world." Read the whole story by Joe Frolik. (Posted 01/09/17).

60 Years Ago... Mr. Jingeling, the keeper of Santa's keys, first appeared at Halle's Department Store downtown and on T.V. to promote toys sold by the store during the holiday season. Conceived as a one-time promotion, Mr. Jingeling was so popular that he became an annual tradition. The role of Mr. Jingeling was assumed by several people over the years including Max Ellis and Earl Keyes and currently by Greg Benedetto. (Posted 12/20/16).

50 Years Ago Today... "Big Chuck" Schodowski made his debut with Bob "Hoolihan the Weatherman" Wells as cohost of WJW's Channel 8's "Hoolihan and Big Chuck Show." Interspersing the weekly viewing of sci-fi and horror "B" films with skits and schtick, Schodowski originated such memorable characters as the Kielbasa Kid and Ben Crazy. When "Hooli" left the show in 1979, "Little John" Rinaldi joined as cohost. Read the P.D. article. (Posted 12/16/16).

Remembering John Glenn 1921-2016 - Astronaut and former U.S. Senator John Glenn passed away at the age of 95. He was the first American to orbit the Earth and was the last surviving member of the original Mercury astronauts. Ohioans elected Glenn to the U.S. Senate in 1974 where he served four terms until his retirement in 1999. Listen to John Glenn's famous "Gold Star Mother" speech and photos of John Glen in Cleveland Memory. (Posted 12/9/16).

The Holiday Lighting Display at Nela Park has been delighting Clevelanders since 1925. This popular annual holiday display features thousands of lights that illuminate the Nela Park campus along Noble Road. Nela Park is the headquarters of GE Lighting and also provides the lights and ornaments for the National Christmas tree on the White House lawn in Washington, D.C.. (Posted 12/5/16).

Dick Goddard Retires- After 55 years as a weather forecaster in Cleveland, Dick Goddard gave his final forecast on WJW channel 8's 6 p.m. newscast on November 22nd. Always an advocate for the four-legged critters, Goddard will continue to appear in his pet adoption segments. See photos of Dick Goddard in Cleveland Memory. (Posted 11/25/16).

Remembering Eddie Carnett 1916-2016 - A former outfielder and pitcher for the Cleveland Indians, Eddie Carnett had been the oldest living major league player until he passed away Nov. 4th, two weeks after his 100th birthday and two days after the Tribe's loss to the Cubs in the World Series. Read more about Eddie Carnett by CMP staffer Vern Morrison. (Posted 11/16/16).

The Free Stamp - 25 years ago Nov. 15th, the "controversial" Free Stamp sculpture by Claes Oldenburg and Coosje van Bruggen was officially inaugurated in Willard Park as a gift from BP America to the City of Cleveland. Read more about the Free Stamp from the Plain Dealer. (Posted 11/9/16).

In the News: Bob Hope -One of the most popular entertainers of the 20th century, Clevelander Bob Hope will be remembered at an exhibit, Bob Hope: An American Treasure, at the Cleveland History Center, Western Reserve Historical Society. Read the P.D. Article about the exhibit. See photos of Bob Hope in Cleveland Memory. (Posted 10/10/16).

70 Years Ago: Last Indians Game at League Park -The Cleveland Indians played their final game at League Park on Saturday, September 21, 1946, losing 5-3 to the Detroit Tigers in 11 innings. Dizzy Trout, the starting pitcher for the Tigers, pitched all 11 innings for the win. Read more about League Park. (Posted 9/21/16).
‹
›
CMP Time Machine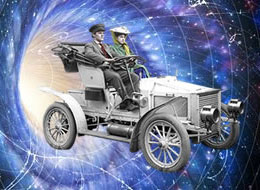 *Our thanks to The Encyclopedia of Cleveland History and the Plain Dealer (via NewsBank), sources for much of the content in our "Time Machine".
Join Our Crew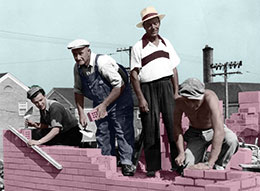 Help us preserve Cleveland's memories! Become a CMP volunteer. Lend us or donate your photos or historic items to digitize for our database. Donate to the Cleveland Historical Materials Library Endowment, which funds our work. More ways to help.
Local History Research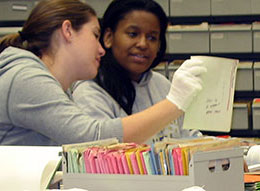 Interested in learning more about local history? Try the Cleveland Digital Library, The Encyclopedia of Cleveland History or the Ohio Memory Project. Need to consult some primary resources? Visit us in Special Collections at the Michael Schwartz Library, Cleveland State University.