Cleveland Union Terminal Construction Photographs, 1926-1929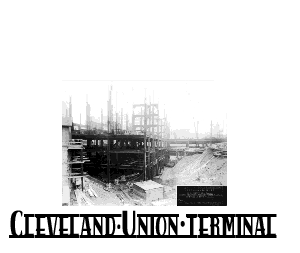 This site documents the construction of the Cleveland Union Terminal (CUT) on the southwest quadrant of Public Square. The CUT was designed to be the union passenger station for railroad trains entering Cleveland after 1930. The project included a complex of office buildings, a hotel, department store, and post office; all capped by the Terminal Tower, then the tallest building between New York City and Chicago.
The exhibit includes black and white photographs, many of them taken by commercial photographer Robert E. Hawkins, documenting both the progress of the construction as well as the original conditions on the land before the neighborhoods and commercial districts were demolished to make way for the Union Terminal project.
Index of Images:

Original Conditions:

Also of Interest :

Dirty Little Secrets: Foundations From the Past - A video documenting research by a team of local geologists, paleontologists and glaciologists on core samples taken from the CUT construction site and vicinity in the early 1920s.
The Ginney Block: Reminiscences of an Italian-American Dead-end Street Kid, by Edward A. D'Alessandro (e-book)
Edward D'Alessandro lived in "the Ginney Block," an Italian immigrant apartment building in Cleveland's Big Italy neighborhood, until 1928 when it was demolished to make way for the new Cleveland Union Terminal construction project. A charming and fascinating first-hand account of the impact the CUT project had on the citizens of the city. This self-described "dead-end street kid" eventually graduated Magna Cum Laude from John Carroll University and enjoyed a 40-year career at the Cleveland Public Library, retiring in 1970 as Director of the Library.
The Memories and the Dream - A video history of Cleveland Union Terminal and Tower City Center. First aired on PBS's WVIZ Cleveland June 26, 1990.