Cleveland: Pioneer in Cardiac Care
Research Into Heart Conditions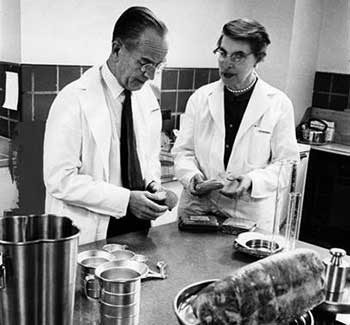 Drs. Helen Brown & Irvine Page research meat for low-fat diets.
In the 1940s and 50s Cleveland led the world in research on the causes of high-blood pressure and its effects on the heart. Dr. Irvine Page, Dr. Harriet P. Dustan, Harry Goldblatt, and many others conducted research at Mt. Sinai Hospital, Case Western Reserve University and the Cleveland Clinic.
Research into cholesterol at CWRU and Dr. Helen Brown's research on low-fat diets at the Cleveland Clinic all helped in understanding how heart disease occurred. The research conducted in Cleveland allowed Dr. Page to develop his mosaic theory of high blood pressure and his involvement with the American Heart Association only increased Cleveland's status as a center for heart care and research.