Cleveland: Pioneer in Cardiac Care
Pioneering Surgical & Exploratory Procedures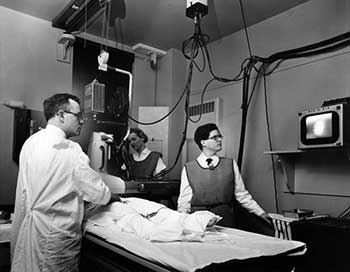 Dr. Mason Sones, left, studies catheter in heart area on TV screen, hooked to an X-ray.
Cleveland cardiologists may not have always been the first to do a procedure, but they were often responsible for making it reproducible and safe to use on humans. 
Dr. Claude S. Beck created two operations for diseases of the heart.  In 1935, he created the Beck I operation, cardiopericardiopexy, which increases blood flow to the myocardium of the heart by causing irritation or inflammation of the membranes.  The Beck II operation was developed in the 1940s and increased blood flow to the heart by placing a vein graft between the aorta and coronary sinus.  Dr. Beck also performed the first successful defibrillation in 1947 and became an avid supporter of teaching cardiac massage techniques to help save lives of heart attack victims.
The exploratory technique of arterial catheterization was improved and perfected by doctors in Cleveland.  Dr. Henry A. Zimmerman developed a technique to catheterize the left side of the heart, and wrote a seminal textbook on catheterization techniques.  Dr. F. Mason Sones Jr., of the Cleveland Clinic, invented the technique called angiography, which used X-ray cameras to follow die injected to the arteries. 
Surgeons at St. Luke's Hospital and the Cleveland Clinic were also pioneers in open-heart surgeries, performing one of the first few heart transplants in the nation, as well as the first successful stopped-heart surgery on a human.  In 1967, Dr. Rene G.Favaloro pioneered the coronary bypass technique when he harvested a vein from a patient's leg to graft onto the heart and increase blood flow.