Cleveland: Pioneer in Cardiac Care
Development of New Technology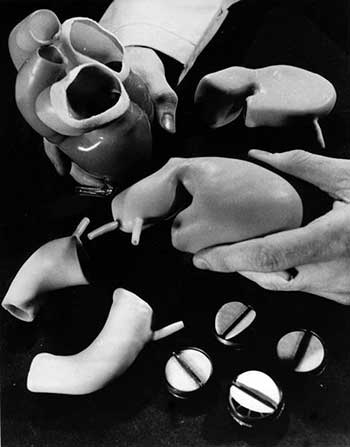 Rubber parts created at Goodyear for a life-like artificial heart.
Hand-in-hand with research was the development of new technology that allowed Cleveland doctors to become pioneers in many areas of cardiac care. The many manufacturing plants in the area not only produced products designed by doctors and researchers from Cleveland, but from other areas of the country as well.
Pemco, Inc. worked with Drs. Frederick Cross and Richard D. Jones to create the Cross-Jones valve, as well as the rotating disc oxygenator developed at St. Luke's Hospital by Drs. Earle B. Kay, Robert M. Berne, and Richard Jones. Another manufacturing company in Cleveland, Precision Metalsmiths, Inc., also manufactured replacement heart valves.
The Cleveland Clinic led the way in research and development of artificial hearts. Partnering with NASA's Lewis Research Center and Goodyear Rubber and Tire Co., the technology of artificial hearts advanced rapidly. Goodyear developed early artificial hearts from molds, and Lewis Research Center developed external machines to keep the hearts pumping. Dr. Claude Beck even developed an early heart pump machine to use in research, as well as an early defibrillator for resuscitating patients whose hearts had stopped.