Roldo Bartimole: A Modern-Day Muckraker
Biographical Sketch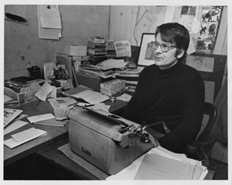 Date of Birth: April 5, 1933.
Son of a butcher.
Raised in Bridgeport, Connecticut.
Attended Northeastern University, graduated in 1959 - became involved in the newspaper as a sports reporter and found a part-time job at the Boston Globe.
Began working for the Bridgeport Post in September of 1959.
Worked at Haverhill Journal in Massachusetts from January to May, 1960, then returned to the Bridgeport Sunday Post.
Worked for the Bridgeport Herald from January 1964 until April 1965.
Worked for the Cleveland Plain Dealer from April 1965 until sometime in 1966 when he left to work for the Summit County Poverty Agency in Akron.
He rejoined the Cleveland Plain Dealer in 1967 but left in the fall to work for the Cleveland office of the Wall Street Journal until May 1968.
Inspired by Michael Harrington's book The Other America.
On his 35th birthday, he chose to leave conventional reporting and begin his own newsletter called Point of View.
February 12, 2018 - he announces his retirement after 50 years as an independent journalist.
Post- Point of View Columns
Roldo has continued to express his own point of view in other Cleveland publications. Interested parties can read past articles in Cleveland Edition, the Free Times, and CityNews.
Awards & Recognition
Roldo never created Point of View or columns for alternative papers to gain notoriety. He felt that "seeking awards could tend to determine how and why one did his or her work, rather than the work itself." Nonetheless, his work has been honored, and he has accepted several awards that were given without his entering his work.
Awards given to Roldo Bartimole by year.

| Year | Award/Honor |
| --- | --- |
| 1991 | Recipient of the Second Annual Joe A. Callaway Award for Civic Courage from the Safeek Nader Trust for Community Interest in Washington D.C. |
| 2001 | Recipient of The Community Shares Award for Social Justice Reporting (for his work in The Free Times) |
| 2002 | Recipient of the Distinguished Service Award from the Cleveland Chapter of the Society of Professional Journalists |
| 2004 | Inducted into the Press Club Hall of Fame |