Tony Mastroianni Review Collection
About Tony Mastroianni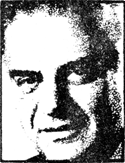 Tony Mastroianni was an expert on local entertainment. He wrote about the theater, movies, television and art during his 32 years with the Cleveland Press. He was the paper's entertainment editor when it closed in 1982. Born in Cleveland, he graduated from Collinwood High School and Adelbert College of Western Reserve University, where he majored in English.
Shortly after Mastroianni started working at the Press in 1950, he went into the Army for a two year tour in Korea. When he returned to the Press, he was a police reporter for nearly two years, wrote a photography column and edited do-it-yourself features. He also wrote a do-it-yourself column that was nationally syndicated through the Newspaper Enterprises Association.
In 1962 he switched gears, and became an entertainment writer, reviewing all of the professional productions in the area and many community-theater shows. As a movie critic, Mastroianni traveled to Hollywood and across the country, as well as to Europe and South America, to write movie location stories.
Mastroianni won three Newspaper Guild awards for critical writing and three Press Club awards. The Cleveland Performer, a monthly publication for theater people, voted him the most knowledgeable and readable of all local critics. In 1984, he was given the William F. McDermott award of the Cleveland Critics Circle for contributions to the local theater.
He lectured at the Cleveland Play House and Case Western Reserve University and to high school and church groups.
After the Press closed, Mastroianni became director of public relations for the Cleveland Play House. He was editor, photographer and designer of National City Bank's employee paper for a year, a freelance writer and reviewer for the Akron Beacon-Journal, and also wrote and edited for Currents magazine.